The slaying of Bali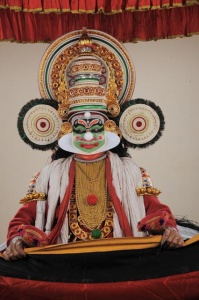 The glorious art form of Kathakali was originated as Ramanattam by Kottarakkara Thampuran in late seventeenth century when he wrote and got enacted the story of Ramayana as eight plays [aattakathas].
Balivadham is the fifth in this octalogy. The story that brings out the darker shades of Ravana is usually enacted on stage in two parts. In the first part, Ravana learns of the mutilation of his sister Shoorppanakha at the hands of Lakshmanan. He also learns of Lakshmanan's elder brother Shree Raman and his beautiful wife Seetha. Enamoured by the descriptions of her beauty, Ravana plots to take revenge by abducting Seetha. For this, he seeks the help of his uncle Maricha. Maricha hesitates but concedes when threatened by Ravana. Maricha takes the form of an enchanting deer and succeeds in separating Shree Raman and Lakshmanan from Seetha. Seizing this opportunity Ravana abducts Seetha and gets away in his flying chariot, Pushpaka. The roc, Jatayu, a friend of Shree Raman's father Dasharathan hears Seetha's wails and attacks Ravana. With his mighty sword Chandrahasam, Ravana slashes at and injures Jatayu, who then waits for Shree Raman's arrival and apprises him of Seetha's plight before dying of the wounds.
The second part of the story deals with Shree Raman's search for Seetha. He meets and befriends Sugreevan and, for his sake, kills his brother Bali to make Sugreevan the king of the apes. The first part, till the slaying of Jatayu by Ravana, would be enacted in this performance. The story forms a central episode of Ravana's life as it portrays his moral decline and portends his eventual downfall and slaying at the hands of Shree Raman.
Main Characters & Artistes in the order of appearance
Ravanan                                             Kalamandalam Sreekumar
Akambanan                                        Kalamandalam Radhakrishnan
Mandodari
Maareechan                                        Kalamandalam Radhakrishnan
Sreeraman                                          Kalamandalam Pradeepkumar
Seetha                                                 Vellinezhi Haridas
Lekshmanan                                       Kalamandalam Chinosh Balan
Sanyasi Raavanan
Jadaayu                                              Kalamandalam Radhakrishnan
View Schedule