The Rise of Ravana
Penned by Kallekkulangara Raghavapisharody in 18th century, the original script traces the story from Ravana's grandfather Sumali and his brothers Mali and Malyavan. Their victory over devas (demi-gods), defeat at the hands of Vishnu, and eventual decline of their race forms the first part of the narrative. The second part depicts the ascension of Ravana and how he restores the lost glory of the Rakshasas (demons).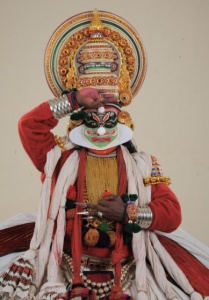 A young Ravana is deeply affected by the grief of his mother Kaikasi who laments the impoverished state of Ravana and his brothers compared to their half-brother Vaishravana.
Determined to make his mother happy, Ravana sets out with his brothers to do tapasya (penance) to obtain boons of power and invincibility. The intense penance performed by Ravana and its tautened progression across stages (named tapassaattam) forms the central theme of the play. Intense and highly structured acting supported by beautifully harmonized percussion forms the central attraction of Uthbhavam, a delight for any Kathakali connoisseur. The exquisite crescendo of acting and percussion reaches its zenith when a resolute Ravana stakes his life for the sake of his quest.
Main Characters & Artistes in the order of appearance
Ravanan : Kalamandalam Pradeepkumar
Kumbhakarnan : Kalamandalam Chinosh Balan
Vibheeshanan : Kalamandalam Radhakrishnan
View Schedule