In Kirmeeravadham, the plot characters, and theatrical possibilities are much more evolved than in Bakavadham. The play is usually divided into two distinct parts called Paathrabhaagam and Lalitha. The first part begins with the hero Dharmaputra (Yudhishtira) lamenting the fate of his consort Paanchaali in her sufferance of the harshness of the life in the forest. The pathinjapadam is marked by its poignancy and solemnity rather than romance, something that befits the stature and nature of King Yudhishtira. Paanchaali responds that she is more concerned by her inability to feed the thousands of Brahmins who have accompanied the Pandavas to the forest. Yudhishtira then consults his guru Sage Dhaumya for a solution. Dhaumya advises Yudhishtira to offer penance to Surya (the Sun). Surya, pleased by Yudhishtira's penance, grants him a magical vessel (pathram) that will provide unlimited food till Paanchaali herself has had her food from it. Pandavas are then visited by their patron Lord Krishna. Yudhishtira complains and mildly admonishes Lord Krishna for their fate. Krishna is enraged by the deceit of Kauravas and summons his terrible weapon Sudarshana Chakra to annihilate the Kauravas. Sudarshanam appears as a character in this play and requests Krishna to command his mission for destruction. An apprehensive Yudhishtira pleads with Krishna to recall Sudarshana Chakra and he obliges.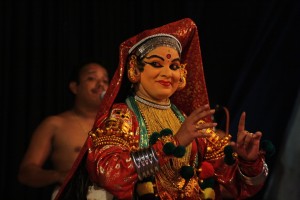 Duryodhanan, jealous of the Pandavas having obtained the magical vessel requests the irascible Sage Durvasavu to visit Pandavas at such an hour when Paanchaali would have finished her meal. Duryodhanan expects that Pandavas would be unable to host Durvasavu adequately and would thus be cursed by him. The insidious plot however is foiled by timely intervention of Lord Krishna. The first part of Kirmeeravadham usually concludes here.
  In the narrative, the second part begins with the slaying of demon Shardula by Arjunan. This is, however, not performed on stage and actual performance commences with the lament of Shardula's wife Simhika. She decides to avenge her husband's death and takes the form of a damsel (Lalitha) and approaches Paanchaali while her husbands are away. She lures Paanchaali deep into the forest on the pretext of worshipping in a Durga temple, while her actual intent is to take Paanchaali to the demon Kirmeera, her brother. The Lalitha-Paanchaali episode offers such brilliant fare of classical theatre that it is often enacted as a standalone Kathakali performance. Paanchaali soon grows suspicious of Lalitha's intent and cries out for help. Sahadevan, the youngest of the Pandavas, comes to the rescue of Paanchaali. Mutilated by Sahadeva, Simhika runs to Kirmeera. He in turn sets out for vengeance, but is slain by Bhima in battle.
When: Friday, 4th December 2015, 1.30 pm
Main Characters and Artistes in the order of appearance
Dharmaputhrar        Kalamandalam Shanmughadas
Panchali                     Haripriya Nampoothiri
Dhowmyan                Kalamandalam Manojkumar
Sooryan                       Kalamandalam Praveen
Shreekrishnan          Kalamandalam Adithyan
Sudarshanam            Kalanilayam Vinodkumar
Durvasav                    Kalamandalam Praveen
Simhika                      Kavungal Divakara Panicker
Lalitha                        Kalamandalam Balasubramanyan
Sahadevan                 Kalamandalam Adithyan
Kirmeeran                  Kalamandalam Manojkumar
Bheemasenan           Kalamandalam Adithyan
Venue: HRH Princess Haya Bint Hussein Theatre, GEMS Wellington International School, Dubai