Victory of Bali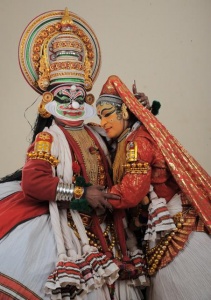 Authored by Kalloor Neelakantan Namboodiripad in early 19th century, Balivijayam depicts how the arrogant Ravana is humbled by the mighty monkey king Bali. Ravana attains supreme power and becomes the overlord of all worlds including heaven after defeating Indra, the king of demi-gods. Indra seeks the help of Sage Narada to get even with Ravana for the shame he suffered at his hands. Narada then tricks Ravana into taking issue with the mighty monkey king Bali. How Ravana suffers humiliation at the hands (tail, really) of Bali forms the main plot of this play.
While comical embarrassment of the mighty Ravana is the main theme of the play, the enactment on stage starts with Ravana at his graceful and romantic best. First comes Ravana's thiranokku (elaborate peeping over the curtain) which is the customary introduction of anti-heroes in Kathakali where they are presented in all their glory and pomp; then the pathinja padam (romantic interlude set to a slow tempo), one of the most elevating sessions in Kathakali.
The highlight of this romantic session of Ravana with his consort Mandodari is the enactment of karavimshathi (twenty hands) where Ravana depicts how his twenty hands are vying amongst themselves to savour Mandodari's charms.Narada enters the scene after the interlude and the rest of story depicts Ravana's transformation from a smitten lover to a conceited braggart and eventually a humbled oaf. On stage, the play closes at the point when Narada incites Ravana to set out to challenge Bali.
Main Characters & Artistes in the order of appearance
Raavanan                                           Kottakkal Kesavan Kundalayar
Mandodari                                           Kalamandalam Radhakrishnan
Naaradan                                            Vellinezhi Haridas
View Schedule